Here's our impressive group of students in the CTS Class we hold every Saturday, 9:30a – 12:30p at Iglesia Nuestra Señora de la Asunción.  By the end of our 3 months of classes, these students will have produced their own individual Business Plan to utilize in starting their own negocio.  So proud of them.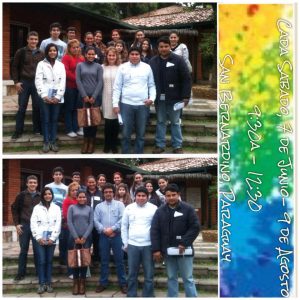 June 3:  An ad I put on Facebook to announce the CTS Entrepreneur Class I would teach with Miguel "Chito" Zarate, Nunila's son, the engineer.
Amigos y Amigas de San Bernardino! Inscríbete ahora para este gran curso!  Las clases comienzan el sábado, 7 de junio y se llevarán a cabo todos los días sábados de 9:30 a 12:30 en la Iglesia Nuestra Señora de la Asunción.  Las clases son gratis!
Al finalizar el curso de diez semanas, y la finalización de los requisitos del curso, recibirá un certificado oficial del Cuerpo de Paz.
Profesores:
Ing. Miguel "Chito" Vicente Zárate y Jane "Yeni" Elizabeth Spelce
Inscríbete ahora a janespelce@hotmail.com con tu nombré, correo electrónico, dirección y número de celular