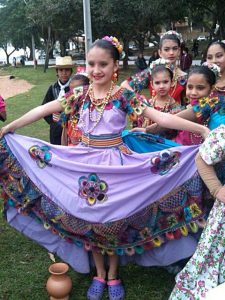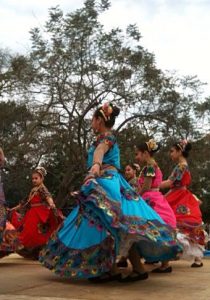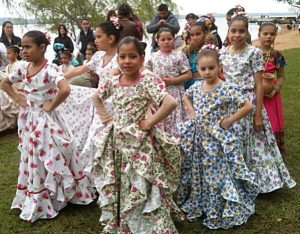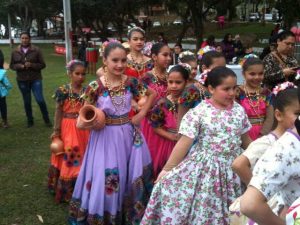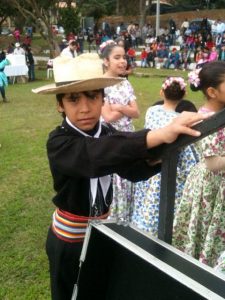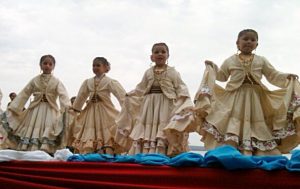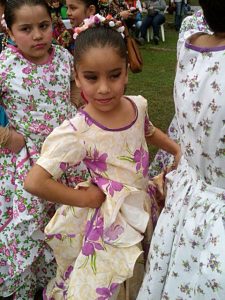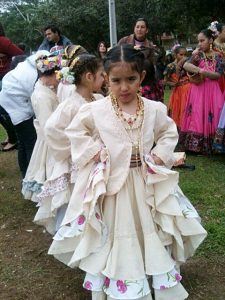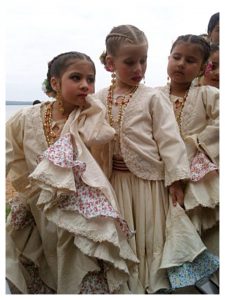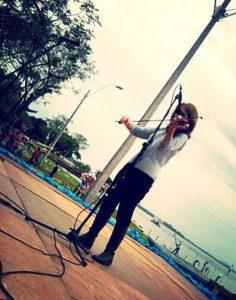 I will be posting "catch-up" photos and comments plus a few stories, on my blog as I wind up my service here in Paraguay. So you'll receive notification of many postings all at once dating over the past six months. My apologies!
August 29, 2014:   Performances along the shores of Lake Ypacarai
Today was a great day of celebration!  The morning began with a service at the top of the hill at SanBer's large Catholic Church, Nuestra Señora de la Asunción.  Both the priest from our church as well as the one from Aregua, the community across Lake Ypacarai, spoke to the large crowd, many of whom were standing in the streets.
I call Nuestra Señora my church because, although this is not my personal denomination, it is the one place where I've have been fortunate to receive an abundance of support, not only personally, but for my classes and projects — quite a valuable thing to a Peace Corps volunteer.  It is a place that has been incredibly kind to me with supportive and loving people who will forever hold a strong place in my heart.
To explain the day's event:  At the culmination of nine days of services and prayers (Novenario), the statue of the Virgin Mary from the church here in San Bernardino, along with the statue of the Virgin Mary from Aregua's church, were taken to a final ceremony along the shores of Lake Ypacarai. Here are the names of the statues in spanish: La Imagen de la Nuestra Señora de la Asunción (San Bernardino) y la Imagen de la Virgen de la Candelaria de Aregua (the community of Aregua).
A very elaborate mass was held outside on the steps of the church. As I positioned myself at the top step, I could see hundreds of people sitting and standing in every direction, throughout the grounds and down the boulevards.  Several choirs performed lively songs which rang out through the loudspeakers, including a strong, dramatic, emotive rendition of Ave Maria.  After the church service, the statues, flanked by hundreds of flowers, were held high on the shoulders of eight men and taken down to the shores of Lake Ypacarai with colorfully dressed musicians walking and playing proud marches. As we arrived, we saw a large platform that had been prepared and festooned in colorful bunting and twinkle lights, the spot where musicians were to perform throughout the day. Food booths had been set up and chairs placed by the hundreds throughout the grounds.
The statues were carried down the pier, placed in large decorated boats and were taken around the shores of Lake Ypacarai for all to see and admire. Then the statue of the Virgen de la Candelaria de Aregua was taken by boat back to Aregua, where she was then transported, held high for all to see, on a walk back to the church.
The photos I've posted are of the tiny, adorable dancers from the San Bernardino Dance Troupe, who performed onstage.  I had such a good time taking photos of them.  Every time I positioned the camera to take a snap, they would fall into a beautiful pose with such ease.  I couldn't take my eyes off of them.  Each
were beautifully poised and confident in their beauty and ability, even the tiniest little cherub.
I was asked to perform a few pieces onstage, so I prepared several of my favorites. Unbeknownst to me, the MC had been given my information, sort of a bio, and gave quite a beautiful introduction which put a lump in my throat.  Thank goodness I wasn't to sing!  I was filled with emotion at the charity and warmth. Then he asked that I say a few words about life in San Bernardino. I mentioned that I was so pleased to make SanBer my new home, about how lovely the relationships have been – relationships that have formed so quickly, and that I think of them all as my family. The crowd burst into applause after each phrase I managed to get out, so I knew I had said some things that spoke to them. It was a fortunate thing that I was able to express myself in decent fashion. The people of Paraguay are big of heart, sensitive, loving and very accepting and I wanted to take advantage of that opportunity to let them know that I realize and appreciate this about them.
It was one more in a long list of extraordinarily beautiful days in Paraguay.