Yesterday, all of us from Itá went on an outing to a small community, Eusabio Ayala, to visit a volunteer and his youth group.  They've banded together with a mission to handle the trash situation in their community.  Throughout Paraguay, there are groups forming to address the various ways to deal with trash.  Much of the time, trash is burned.  However, recycling efforts are taking hold and there is success.  The streets and park of Eusabio Ayala were notably well kept. I want to tell you more of the details of their community efforts, for they are amazing and have given us a foretaste of the youth initiatives we will be experiencing at our own sites.  I will, once I have gone through my notes with google-translate at the ready!
Here's the deal:  I am an intermediate Spanish speaker but that's not saying much when you are trying to grasp the conversations dancing here and there, surrounding you, and all of it being offered with rapid-fire fluidity!  It's like being at a party with Spanish vocabulary flitting around the dance floor in their sombreros, urging you to join in, while additional, more unfamiliar articulations race by with a sly grin.  All the while, in the background are feisty peripheral phrases and meanings busily performing their own Paraguayan polka, just waiting for you to cut in and whirl along with them.  I did indeed put on my "dancing shoes" and was able to decipher the majority of what was being said.  However, as of this morning, my head is swirling with an español hangover!
So, I'm resting my brain today and packing for my 4-day trip to the beautiful Villarrica! I have homework to do, too.  This afternoon will be spent writing my part, (in español, of course) of the radio program we've been invited to do.  We are to introduce ourselves, tell about the Cuerpo de Paz. and our own personal journey to get here, plus our memories and experiences of 4th of July celebrations in the States.  I'm downloading an mp3 of "It's a Grand Ol' Flag" for us to sing!   We will also be presenting a workshop for high schoolers, leading a discussion on self-esteem, and I will be writing out my español phrases so I won't embarrass myself!  I'm excited about this upcoming trip and will tell you all about it when I return.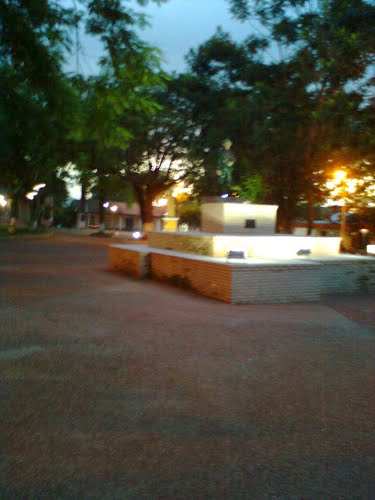 While in the lovely Villarrica, we will, of course, be mesmerized once again with a quick-step of discussions in Spanish, interspersed with an occasional, welcomed slow waltz of words and ideas.  The good thing is that with every day that passes, I learn more of the idioma and am seeing my abilities increase.  Super-fantastico, this Spanish Dance!