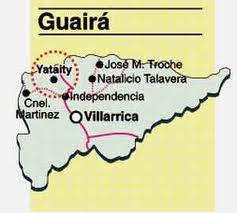 RADIO GUAIRA AM 840—Ayer me entrevistaron, junto con otras dos voluntarias de Cuerpo de Paz en un programa en Radio Guaira AM 840!
Tuve la maravillosa oportunidad de decir algo acerca de Yataity y decirles acerca de nuestra hermosa, guapa artesanas.
Estoy haciendo los arreglos para entrevistas de radio con respecto a la próxima Expoferia-Yataity Ao Po'i, que se celebrará en los días previos a la feria.
————–
Yesterday I was interviewed, along with two other Peace Corps volunteers on a talk show on Radio Guaira AM 840!
I had the wonderful opportunity to say a little about Yataity, and tell them about our beautiful, guapa artesanas.
I am making arrangements for radio interviews regarding the upcoming Expoferia, to be held in the days leading up to the fair.